5 years after the seminal work Database Marketing: Analyzing and Managing Customers by Robert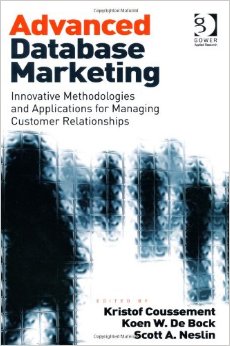 Blattberg, Byung-Do Kim
and Scott A. Neslin was published, the new and updated bible of Database Marketing is here. May 2013 sees the launch of Advanced Database Marketing: Innovative Methodologies and Applications for Managing Customer Relationships, a book put together by Kristof Coussement, Koen W. De Bock and Scott A. Neslin.
Advanced Database Marketing brings the latest developments in the domains of customer analytics and database marketing organized around two dimensions: applications and methods. Special attention is given to the way the Internet has changed the nature of the game and the numerous ways in which new types of data can lead to exciting new ways of managing and improving customer relationships. An impressive list of contributors including many of the thought-leaders in database marketing from across the world bring together chapters that combine the best academic research and business applications. The result is a definitive guide and reference for marketing and brand analysts, masters students, teachers and researchers in marketing analytics.
Advanced Database Marketing can be ordered via the usual channels, and if you order via Gower's web site now, you'll receive a 35% discount with the following promotion code: G12GUT35 !
Order from Amazon
Order from Gower Publishing